Prospect of Whitby Antiques - Medals, Badges and Insignia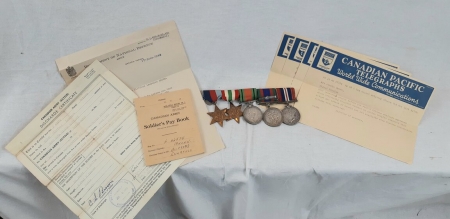 Italian Campaign West Nova WIA Grouping.
Price: $475.00
Excellent condition grouping of 5 swing mounted medals that belonged to F42574 Pvt. Clifford Lawrence Brown of the West Nova Scotia Regiment. Brown was from Wilmot Station in the Annapolis Valley. He was severely wounded on the 12th of December in the lead up to the Battle of Ortona. He would subsequently lose his leg to those injuries. Apart from his medals are 4 telegrams from Department of National advising Mrs. Brown of her husband's wounding in action and his subsequent condition. Also included is Brown's late war paybook and original discharge certificate. A great attributable grouping to one of the D-Day Dodgers.
Contact us about this product:
Copyright © 2023 Prospect Of Whitby Antiques :: Pre 1945 Military and War Memorabilia :: Halifax Nova Scotia | Website Designed by: Eastwood Design | Page Visits: 1765688